Aries Music - a bit of history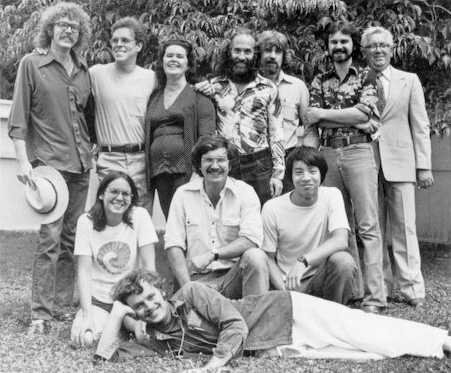 Friends and employees of Aries Music, ca 1975-76
Picture from Aries catalog.
Here is who Bob Snowdale and I recognize:
Left to right, top row, standing
Ken Perrin, from the Boston School of Electronic Music (BSEM)
Ron Rivera (Rivera had his own company, partnered with Aries).
June Richards - office manager
Dennis Colin, who designed both the Arp 2600 and then the Aries 300.
Jimmy Bastable - Bob Snowdale's partner
June's son (Rick?) - did cabinets for Aries
Accountant for Aries
2nd row, seated
Jennifer Morris, who did graphics for Aries,including the spiffy logo
Bob Snowdale, who purchased Aries from Frank Fink ca 1976 and moved it from Peabody, Mass, to Salem
Doug Chin, a very bright young technician
Lying on ground
Carl Fravel, office manager at Aries 1975-76, then founded Gentle Electric in 1976
Not shown:
Frank Fink, the original founder of Aries Music
If you recognize more people in this picture, or have other pictures, drop me a note, thanks - Carl
Other Aries links:
---
Please direct inquiries and feedback to Carl Fravel.