Gentle Electric Home Page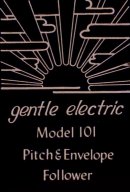 History of Gentle Electric
While working at Aries Music in the Fall of 1976, Carl Fravel had some conversations with Dennis Colin, the designer of the Arp2600 and of the Aries, about pitch following for analog synthesizer control. Dennis had prototyped a pitch follower using cascading octave lowpass filters, but didn't create a product from it. After leaving Aries, Carl founded Gentle Electric, for which he designed a pitch follower a using a different approach (a time-domain pattern recognition algorithm), and included envelope following and envelope triggering features. Gentle Electric's early business included custom synthesizer work and prototype quantity circuit board manufacturing, until the pitch follower was ready for manufacturing. Approximately 200 of these pitch followers were sold over the next 10 years. The pitch follower was produced in 6 configurations...
Original prototype - mounted in an Aries Synthesizer module, still owned by Carl Fravel
In a blue and white metal cabinet. Serial number 1 was funded by and delivered to composer/performer Gordon Mumma in early 1977
In a black rack-mountable unit (Gentle Electric Model 101 Pitch and Envelope Follower)
As circuit boards for OEM or custom synthesizer use
As a Serge Modular Systems synthesizer module starting ca 1978. See also https://www.youtube.com/watch?v=urTd1o9SLM8
As an Aries Synthesizer module (AR-333) ca 1977/78
In 1977, Carl relocated Gentle Electric to Santa Cruz, CA, concurrent with accepting a part time faculty position with the UCSC Electronic Music Studio. Gentle Electric was operated literally out of the garage, and there were a number of employees during that period, inluding Kevin Monahan (later went to Sequential Circuits, then Emu), Steve Hoge, and Daniel Keller.

In the late 1970's, Gentle Electric considered creating a MIDI version of the Pitch Follower, and was issued system exclusive code 0x13 by the IMA, as documented in the 1983 release of the 1.0 MIDI spec (example example), but no Gentle Electric MIDI product was released at that time, so 0x13 was later reissued by the IMA/MMA to Digidesign.

Carl relocated Gentle Electric to Delta, CO in 1980, employed the services of Ed Horton, and turned over the daily operations of Gentle Electric to Ed in 1986 when Carl accept a position at WaveFrame in Boulder, CO.

The last analog Gentle Electric Model 101 Pitch and Envelope Follower was sold to Steven Adams in about 1986. Steven attempted to use it to create a prototype of a pitch reader input device for personal computers, for application in music education.

Carl and Steven created a company called AFI (Adams-Fravel, Inc) in about 1986 to build a new version of the pitch follower as a plug-in ISA card for IBM PC's and compatibles. Several hundred of these were manufactured in the late 1980's and early 1990's, these being resold as OEM units through several companies that created music training software products, including Electronic Courseware Systems (Dr. G. David Peters of Indiana University School of Music) and Music Lab Systems.
Artists, Recordings, and other uses of the pitch follower
Chris Brown

"Urge", on Chris Brown Duets - Artifact ART1016
Urge (1981/1996) This is a double duet reconstructed across a fifteen year gap. The bed-tracks were made from a 1981 mix of Tom Nunn's 4x8 foot stainless steel Space Plate, Chris Brown's Chromatic Wing ( a chromatically tuned wing-shaped Space Place) with wah-wah pedal, and concrete sounds from the sewer and garage door of the recording studio. Mixed over this are tracks recorded in 1996 from a feedback patch using Serge analog electronics modules and a Gentle Electric pitch follower which was developed for a performance of John Cage's Sculptures Musicales (1989). These elements were never intended to live in the same music, but somehow ended up together.

JJ Johnson

PINNACLES - Milestone 9093 (LP)/OJC-1006 (CD).
J.J. JOHNSON, trombone, trombone with Gentle Electric pitch follower and Roland Space Echo, ARP 2600 synthesizer, Oberheim Expander Module, arranger; OSCAR BRASHEAR, trumpet; JOE HENDERSON, tenor saxophone; TOMMY FLANAGAN, piano, clavinet, Fender Rhodes electric piano, Yamaha electric grand; RON CARTER, bass, bass with phaser; BILLY HIGGINS, drums; KENNETH NASH, percussion. Recorded at Fantasy Studios, September 17-19, 1979. Engineering by Wally Buck, assisted by Danny Kopelson.

Brian Eno

Brian Eno purchased a Gentle Electric pitch and envelope follower from Carl at the "garage" factory in Santa Cruz in approximately 1979 or 1980. Does anyone know if he ever recorded with it?

Denise Gallant

Starting in 1976, and carrying through to early 1981, Denise Gallant, working in tandem with CBS engineer Rob Schafer, designed and built a unique prototype video synthesizer, which is considered by many as one of the most advanced analogue video synthesizers in the world. Denise also made two smaller synthesizers which were orders from the US Festival (Mac's huge concerts in Los Angeles), but never made copies of the whole thing. They were proprietary designs, except for the built in Gentle Electric Pitch Follower (ca 1978), and an adapted design of a Surge sequencer (San Francisco late 1970s) for a simple sequencer. The main pieces, however, were custom built, and still create effects never seen before.

Mark Glinsky

www.markglinsky.com/MsgStudio.html

Amanda Stewart / Warren Burt

http://www.aec.at/20jahre/archiv/19891/1989_272.rtf

Larry Polansky, Daniel Goode

17 Simple Melodies of the Same Length (for Daniel Goode)
"The piece was first written on the Amiga, using a custom built analog to digital converter and the Gentle Electric Pitch Rider to capture the melodies. This new portable version was ported to the Macintosh (and now, back to the Amiga!) by Robert Marsanyi and myself, and the idea was stimulated by Daniel Goode. This portable version allows much more performer liberty in the selection of sounds and the piece's overall character, and I am grateful to Robert Marsanyi for his several fine suggestions in this regard."
http://www.aec.at/20jahre/archiv/19891/1989_272.rtf
Documentation
Gentle Electric Model 101 Pitch and Envelope Follower (rack mountable)


Photo courtesy Toby Paddock
---
Search Google for Gentle Electric Pitch Follower
Please direct inquiries and feedback to Carl Fravel.